Our new in-house full service optical shop is now open!? Let us take responsibility for your new glasses.
We have partnered with the best frame designers as well as the industry's best lens manufactures and labs. We offer the latest lens technologies, including digitally-surfaced and free-form lens design, as well as standard lenses.?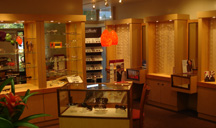 Our service is individualized so that your particular visual needs are fully addressed.? Surprising to most, we also offer value frame-lens packages similar in price to large retailers but uncomparable when it comes to service.
Call for your appointment 408-358-5300