Welcome!
Searching for a new San Jose eye doctor? You are at the right place. We not only care for patients in the San Jose area, but for those all over the Bay Area.
Our philosophy is to provide personal and friendly eye care, in a comfortable setting, with sufficient time for questions and answers, using advanced technology and diagnostic skills, excellent medical and surgical management, and superior service.
As a result, our practice has grown in many ways, including this new website that features a substantial Patient Education Center, online appointment requests and online forms.
We recently added a link to EyeSmart™ a public awareness campaign that empowers Americans to take charge of their eye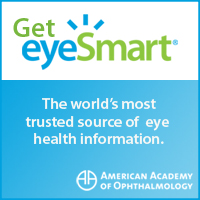 health. EyeSmart emphasizes the need for Americans to know their risk factors for eye diseases, infections and injuries, and the role ophthalmologists play in the prevention, diagnosis and treatment of eye conditions.  The campaign is sponsored by the American Academy of Ophthalmology, in partnership with EyeCare America—a public service program of the Foundation of the American Academy of Ophthalmology.    Click on the logo to explore a vast resource.
Also, be sure to check out the National Eye Institutes Healthy Eyes Quiz, a resource to test your knowledge and raise your awareness about the importance of healthy vision.  See how many questions you get right!   Click on the START button on the right.


The practice has expanded in other ways, too.  In July 2009, we relocated to a larger suite where we now offer a full service Optical Shop that features the latest in lens and frame technologies yet offers pricing for most budgets.

We are also converting our paper charts (i.e., your medical record) to electronic medical records and electronic medical prescriptions. This will save a tremendous amount of paper and redundancy and it will allow us to communicate with your other doctors and pharmacy directly without paper. I believe this will ultimately provide efficiencies and other benefits to patients and physicians alike.

I want to thank my patients and colleagues for the many referrals that have contributed to our growth.

Thank you!

I believe patients like the care we provide because of our practice philosophy:

Provide personalized and friendly care in a comfortable environment

Provide excellent diagnostic and management skill

Provide superior personalized service

Educate each patient about his or her health needs

Partner with each patient for a lifetime of good vision

We schedule appointments to allow sufficient time to get to know you and for you to get to know us. We believe that taking time to answer your questions and to have a meaningful exchange is important to you and your healthcare.

Welcome to our practice!