Latisse for Eyelash Growth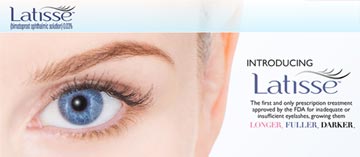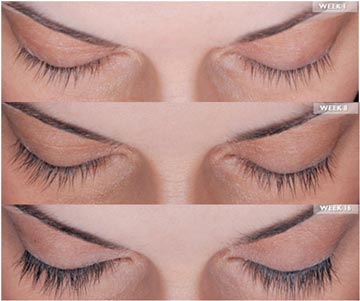 LATISSE (bimatoprost ophthalmic solution) 0.03% is the first and only prescription treatment approved by the FDA for inadequate or insufficient eyelashes, growing them longer, fuller and darker.
LATISSE works effectively. As an ophthalmologist, Dr. Saub has prescribed this medication for glaucoma since 2001. He has more experience with its use and side effects, than most other doctors.
LATISSE makes lash growth possible because of its active ingredient: bimatoprost. Although the precise mechanism of action is not known, research suggests that the growth of eyelashes occurs by increasing the percent of hairs in, and the duration of, the anagen (or growth) phase. Lashes can grow longer, thicker and darker because bimatoprost can also prolong this growth phase. Clinically proven results you can see over time.
LATISSE is easy to use, FDA approved and effective. It's a once-a-day treatment you apply topically to the base of your upper eyelashes. Patients in a clinical trial saw results gradually over time (starting at 4 weeks with full results after 16 weeks). It's an innovation backed by research.
While LATISSE is a new treatment in eyelash growth, it was developed through years of research by Allergan, a pharmaceutical leader with over 60 years of expertise in prescription eye care products. Dr. Saub has prescribed the same medication for glaucoma patients since 2001, giving him, as with most ophthalmologists, extensive experience with its use and side-effects.
Great eyelashes don't just happen overnight. That's why it's important to note that LATISSE works gradually and remarkably starting at 4 weeks with full results after 16 weeks. Once you begin treatment, you could start to see results in as little as 4 weeks, but you must continue applying the topical treatment each night and follow the directions for best results. Remember results are gradual over time. Your eyelashes will experience real measurable growth.
LATISSE works from the inside out. As the treatment progresses, you'll begin to see changes in length, thickness and darkness gradually. After week 16, you'll see the full effect of LATISSE and so will others. There are possible side effects. Throughout clinical trials, some users did experience itchy eyes and eye redness. However, some users found that these irritations went away once they became accustomed to the product or began applying it properly. As with any prescription treatment, always consult with your doctor for information and proper usage of LATISSE solution. In the clinical study, 78% saw significant increases in all of the following three measurements at week 16: length, fullness and darkness.
Follow these guidelines for best results:
Think routine. Try to incorporate LATISSE into your nightly routine. For example, after you've washed your face and brushed your teeth. Keep it handy – Store the LATISSE bottle near your other skin care products or toothbrush, so you won't forget to apply it each night. Have patience – LATISSE takes time to work. Only use it once a night, and don't overuse it, as this may increase the chance of experiencing eye redness or itchiness.
Start fresh. – If your eye makeup remover leaves an oily residue on your eyelids, wipe off any excess oils with soap and water to ensure a clean surface before you apply LATISSE. Once you know how to apply LATISSE, it's important to understand a few simple tips to help you make your treatment as effective as possible.
Always use the sterile, disposable FDA-approved applicator provided in the kit. Don't try to apply LATISSE with a cotton swab. The LATISSE applicator is specially designed to hold a drop and release a drop, as well as ensure safety and maximize effectiveness.
Don't play catch up. If you miss a dose one night, don't apply more just to catch up. Simply apply LATISSE the next evening and stay on schedule.
Beware of germs. Don't let the tip of the bottle or applicator contact your fingers or any other unintended surface, in order to avoid contamination.
Chart your progress. When you start using LATISSE solution, be sure to mark your calendar and take pictures throughout weeks (0, 4, 8, 12, 16), so you can have your own "Before & After Gallery."
Is LATISSE safe?
LATISSE is an FDA-approved prescription treatment for hypotrichosis used to grow eyelashes, making them longer, thicker and darker. Hypotrichosis is another name for having inadequate or not enough eyelashes. The FDA reviewed clinical study results to verify the identity, potency, purity, and stability of the ingredients, and demonstrated that the product is safe and effective for its intended use if used as prescribed. If you're considering LATISSE(bimatoprost ophthalmic solution) 0.03%, it's important to get all the facts before making any decisions. Like any new product, you're going to have questions about how the treatment works, how soon you'll see results, and, of course, how safe the product is. This site was intended to give you a basic understanding of the product, but you will need to talk with Dr. Saub to see if LATISSE is right for you.
To find out if LATISSEis right for you, please arrange for a short visit with Dr. Saub. While most everyone may want the look of longer, fuller and darker lashes, not everyone may be right for the treatment. An evaluation of your medical history is needed to determine if you are a good candidate. You should not use LATISSE if you have an active eye condition, including an eye infection, or have broken or irritated skin on your eyelid. And if you are using products for elevated intraocular pressure, you should only use LATISSE after consulting with your doctor.
What are the side effects?
The most common side effects after using LATISSE solution are an itching sensation in the eyes and/or eye redness. This was reported in approximately 4% of patients. LATISSE solution may cause other less common side effects which typically occur on the skin close to where LATISSE is applied, or in the eyes. These include skin darkening, eye irritation, dryness of the eyes, and redness of the eyelids.
Disclaimer
This Patient Education Center is provided for informational and educational purposes only. It is NOT intended to provide, nor should you use it for, instruction on medical diagnosis or treatment, and it does not provide medical advice. The information contained in the Patient Education Center is compiled from a variety of sources. It does NOT cover all medical problems, eye diseases, eye conditions, ailments or treatments.
You should NOT rely on this information to determine a diagnosis or course of treatment.  The information should NOT be used in place of an individual consultation, examination, visit or call with your physician or other qualified health care provider.  You should never disregard the advice of your physician or other qualified health care provider because of any information you read on this site or any web sites you visit as a result of this site.
Promptly consult your physician or other qualified health provider if you have any health care questions or concerns and before you begin or alter any treatment plan. No doctor-patient relationship is established by your use of this site.